Complete PowerPoint Election Solutions from the Industry Leader – Padgett Communications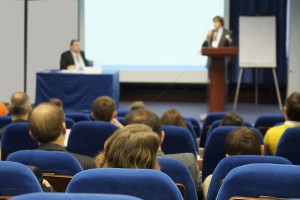 Using PowerPoint for an election at your organization's next gathering has many advantages. For example, when paired with wireless voting devices, it can be used to instantly tally and graphically render voting results. This is far less time consuming and more reliable and engaging than traditional methods such as paper ballots. However, using the wrong PowerPoint election solution may be more trouble than it's worth. For example, do-it-yourself solutions can take extensive time to set up and may freeze, resulting in potentially costly delays.
At Padgett Communications, we offer comprehensive service and support that will include everything you need to ensure your PowerPoint election goes off without a hitch. Our services include:
Your choice of several wireless keypads – Our devices can be programmed to suit your needs and have features, such as multi-selection capabilities, so they can be used in virtually any voting application.
Top quality presentations – Our service includes audio, video, and graphic presentations that are customized to your requirements.
On-site management – We send a project manager to every event who sets up all equipment, installs necessary software, ensures the monitors are viewable by the audience, and troubleshoots any problems, should they occur, during the election.
After serving countless customers, including Fortune 500 companies, syndicated television shows, professional associations, and many others, since 1995, we've maintained a 100 percent success rate. To learn more about our PowerPoint election solutions and to receive a fully itemized price quote for everything we will provide, contact Padgett Communications today.