Creative Presentation Participation Ideas for Events, Conferences & Meetings on a Global Scale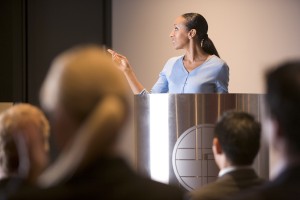 If you'd like to incorporate fun and fresh presentation participation ideas into an upcoming event or meeting, turn to the trusted professionals at Padgett Communications for inspiration. We've helped businesses of all sizes and all across the world keep employees and other guests fully attentive and participating in events since we first opened our doors for business in 1995.
The ARS (audience response system) equipment that we can rent to you is fully capable of being used in a variety of different applications. And, if you're ever at a loss for presentation participation ideas to keep your audience engaged, the Padgett team will be there to assist. Some ideas you might want to consider include:
Playing fun games in the format of popular TV game shows
Managing elections
Receiving immediate feedback on new products, policies, and procedures
Administering tests and quizzes
Putting an element of fun in breakout sessions and icebreakers
Running employee training events
Conducting team-building exercises
Recording polling data with almost unbounded metrics and parameters
And more – we can provide you with many more ideas
When you choose Padgett, you'll also benefit from having one of our personal project managers to assist you throughout the event. So, you can allow us to set everything up and troubleshoot problems, allowing you to remain focused on running a successful event.
To gather more information on fun, interactive presentation participation ideas, and how renting ARS systems from Padgett Communications can contribute to the success of your meeting or event, please contact us today. When you do, we'll consult you on renting from us and can even assemble a fully itemized quote containing everything you will receive from us.