Audience Response System Rental for Conventions and Meetings Worldwide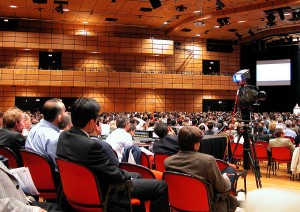 Padgett Communications has provided exemplary audience response system (ARS) rental services for events around the world since 1995. Padgett Communications provides the best value and customer service in the industry, and no one else even comes close. That's why we're the ARS provider of choice for dozens of Fortune 500 companies and the popular lineup of shows seen on the Oprah Winfrey Network, including Dr. Phil and Rachael Ray.
With a Padgett rental audience response system implemented for your next event, meeting, or conference, you get:
Reliable, state-of-the-art, user-friendly handheld keypads to gather audience feedback
A full-time project manager, trained and employed by Padgett Communications
On-site coordination of setup by a Padgett employee (not a freelancer), including rehearsal and real-time flexibility if you need to change the program on the fly
Thorough pre-event planning to determine which of Padgett Communications' many meeting applications can best serve your needs
Instant archiving and permanent, secure storage of data for easy access in the future
The peace of mind that comes with knowing your ARS needs are being met by competent professionals with a proven track record
Cost certainty with a completely itemized quote
Whether your next event will take place at a convention center, a downtown hotel, or at one of the many luxury resorts and conference centers around the world, consider the benefits and value of a rental audience response system from Padgett Communications. Click or call today to get started with a complimentary quote.