Choose a Rental of Audience Response System Equipment from Padgett Communications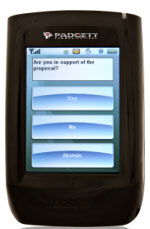 At Padgett Communications, we proudly offer rental packages for audience response system (ARS) equipment to businesses of all sizes across the globe. We have years of experience in renting ARS equipment, and we always make it a point to provide truly customized products and services to ensure successful events for our customers.
By choosing Padgett Communications for your ARS rental, you'll experience customer service the way it was truly intended to be. We understand that working with such equipment as ARS systems can often be intimidating or even confusing. But we'll be there by your side to ensure that your event is a success.
What's more, when you turn to Padgett, you won't be left with just any keypads, but rather have the opportunity to choose between four different devices for your attendees to use. The options we offer include:
Padgett Mini – Small and simple, this keypad is the perfect option for responding to basic multiple-choice questions.
Padgett Plus – Thanks to multi-digit functionality and user login capacities, this option allows for a more personalized experience for attendees and more detailed data for you.
Padgett Worldwide – With a full-color display and a more ergonomic design, this option is a significant step up from the Padgett Plus.
Padgett Ativa – Perfect for answering open-ended questions, this keypad comes complete with a touch screen, keyboard, and full-color display.
To learn more about Padgett Communications and the audience response system rental equipment that we can provide for your upcoming meeting or event, please contact us today. We'll happily work with you to find an ARS rental solution completely tailored to your unique needs. And, once we have everything squared away, we'll provide a complete itemized quote detailing everything you plan to rent from us.