Considering Renting ARS Equipment for an Upcoming Conference or Event? Choose Padgett Communications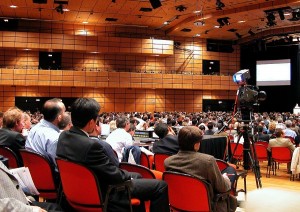 Since 1995, Padgett Communications has been renting world-class ARS equipment to businesses hosting company meetings, conference organizers, event planners, and much more. In the time since then, we've garnered a sound reputation in the field and managed to maintain a flawless 100 percent success rate for all of our customers. We're fully dedicated to providing a positive audience response system (ARS) rental experience, and we'll stop at nothing to see that you are satisfied with what we have to offer.
Renting ARS equipment from Padgett Communications is unlike renting from any other company. Instead of sending you ordinary equipment in a box with a list of complicated instructions, we will:
Provide you with state-of-the-art handheld clickers that will be checked for proper functionality prior to your event
Supply you with our proprietary software that is designed specifically to keep attendees engaged and attentive throughout the session
Send an experienced project manager from our staff to set up everything, walk you through the process, and work by your side throughout the event to ensure success
What's more, ARS systems from Padgett Communications are designed to be fun and engaging for all involved. The software that we use in administering events with audience response goes beyond merely allowing attendees to respond to basic yes-or-no and multiple-choice questions, and allows them to participate in exciting quizzes and fun games.
For more information regarding the benefits of renting ARS equipment from Padgett Communications for your upcoming event, conference, or meeting, please contact us today. We'll happily assess your needs and provide an itemized quote for our equipment and services.