Renting Audience Response System Equipment from Padgett Communications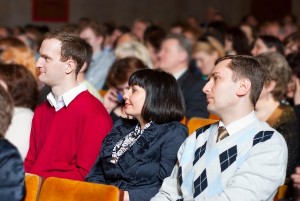 When renting an audience response system (ARS) from Padgett Communications for your conference or event, you can have complete confidence that the equipment we provide will enable you to gather 100 percent accurate data from members of your audience. All of our equipment and software is field-tested to ensure proper functionality and guarantee reliability, and our wireless handheld devices are simple to use, allowing audience members to quickly and accurately answer your questions. In fact, we've facilitated events held in cities around the world, and we've maintained a flawless track record. This isn't something you can expect when working with an ARS service provider that relies on audience members to provide feedback using their smartphones, which have proven time and again to be unreliable, or by trying to take a "meeting-in-a-box" approach.
What also sets us apart from other audience response system rental companies is the world-class service we provide for the duration of an event. At Padgett Communications, we assign a full-time, experienced project manager to work on-site at every job we undertake. This professional has expertise working with all of our technology, and will handle such tasks as:
Pre-event planning
Equipment setup
Conducting an on-site rehearsal
Troubleshooting any issues that may arise
And more
If you want to ensure you have dependable ARS equipment and expert assistance from a trained employee – not an independent contractor – who has expertise working with the technology being utilized at your event, then make the smart choice when renting an audience response system and turn to Padgett Communications. Contact us today to receive a free, itemized quote for our ARS service, and let us show you how we've maintained our position as a leader in the audience response system industry.