Reliable ARS Service For Speakers Associations, Public Speaking Bureaus, And Other Agencies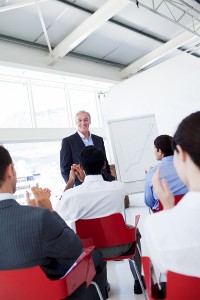 If you are an event coordinator for a speakers association, a public speaking bureau, or similar agencies, you already have a pretty good idea what makes an engaging presentation. Now, take that idea and add the power of audience interaction. With Padgett Communications handling the audience response system (ARS) at your next event, you'll have them on the edge of their seats from start to finish. Padgett Communications has worked extensively with organizations of virtually every type, in virtually every corner of the globe. No matter the subject, no matter how large the audience,
Padgett's ARS service is certain to help get your message across by keeping the participants not only interested, but involved. Our state-of-the-art wireless response keypads are simple to use and 100 percent reliable, so you can rest assured that your presentation will never be sidetracked by technological glitches. Audience feedback from Padgett is perfect for speeches and presentations for:
Continuing medical education
Professional organizations
Religious organizations
The veterinary industry
Fraternities and sororities
Pharmaceutical companies
The military
Much more
To learn more how ARS from Padgett Communications can help transform your speeches into amazing interactive events, click or call today for a complimentary, completely itemized event quote.