Electronic Voting Systems Available for Rent from Padgett Communications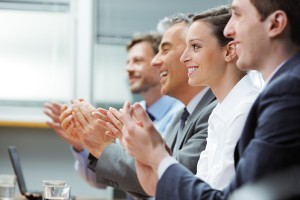 At Padgett Communications, we're proud to rent state-of-the-art voting systems to organizations of all industries in locations throughout the United States and all around the world. Our electronic polling software and equipment are designed to make facilitating and overseeing an election as simple as it can possibly be, while ensuring that the data and results are accurate and securely stored.
Beyond supplying you with electronic voting systems to better run an election within your organization, we'll provide you with one of our dedicated project managers to ensure that the entire event is a rousing success. Specifically, this person will be tasked with:
Installing all of the software into our voting systems and ensuring that everything is operating as it should, preventing any hang-ups from occurring during your election
Ensuring that all video boards, displays, and projectors at your venue are easily viewable throughout the site and are properly responding to our election equipment
Walking you through how everything will run prior to the actual election to help familiarize you with our voting equipment
Standing behind you throughout the election to ensure that all goes as planned and to quickly troubleshoot any complications on the fly
If you'd like to learn more about the various voting systems and software that we offer and can rent to you, please contact Padgett Communications today. A member from the Padgett team will be here to assist you in finding the ideal systems for your needs and to prepare an itemized quote outlining everything you plan to rent from us.