Padgett Communications rents Wireless Election Systems to Organizations around the World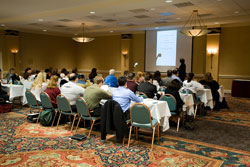 Organizations that demand the finest wireless election systems for their events, meetings, or conferences turn to Padgett Communications. Since 1995, we've maintained a reputation as industry leaders. This is because we offer our customers much more than do-it-yourself solutions, which can be frustrating and time consuming to set up, and come with the risk of malfunctioning during an event.
As a full-service audience response system (ARS) rental company, Padgett Communications provides both state-of-the-art, wireless election systems and complete setup and support services. Wherever your event is being held, we'll send a project manager who will be responsible for setting up the equipment, installing the software, and conducting a rehearsal. We'll also prepare for any contingency, and be able to make on-the-fly changes and troubleshoot problems if they arise.
Whether your organization is preparing to vote for a new president, or you'd like a way to fully engage an audience at an event and collect instant feedback, renting wireless election devices from Padgett Communications is the ideal solution. We've maintained a 100 percent success rate over the course of 20 years, which is why we're trusted by so many organizations, including:
Energy companies
Fortune 500 companies
Many different professional associations
Law and accounting firms
Non-profit organizations
Research and development agencies
Syndicated television shows, such as Oprah
And more
For more information about why you should rent wireless election systems from Padgett Communications, contact us today. We'll happily discuss your requirements and provide a completed, itemized quote for our service.