Audience Assessment Simplified By Padgett Communications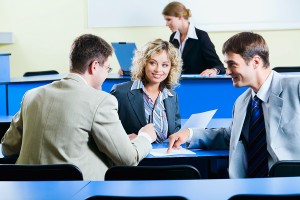 Audience assessment doesn't have to be a time-consuming process dominated by worksheets and painstaking post-event collation of hand-written surveys. The hours and days you spend sorting through reams of paper – or even on-line PDFs – would be better spent actually analyzing and acting upon the information. But how can you tap into the vast intellectual potential inherent to a gathering of the best minds in your organization or industry? More to the point, who can help you do this?
Simply put, an audience response system from Padgett Communications is the absolute best way to save time, effort, and money when it comes to audience assessment. Using the latest technology in hand-held keypad devices and ARS software, Padgett can customize your presentation to suit your precise requirements. Your personal project manager will be with you every step of the way, helping you determine how best to present your information to your event attendees, as well as coming to the site of your meeting to set up the system and help coordinate the production. You won't find that level of hands-on customer service anywhere else in the ARS industry.
In addition to instant archiving and storage of information, an audience response system from Padgett Communications is great for:
Increasing audience involvement and learning
Promoting team building
Enhancing meaningful dialogue
Capturing quantifiable results
Much More
Before your event, your project manager will work with you to plan exactly how to you wish to conduct your meeting, from question development to display options to post-event audience assessment. Call or click today to learn more, or for a free, itemized quote for your next event.