Padgett Communications' Audience Feedback System is Reliable and Versatile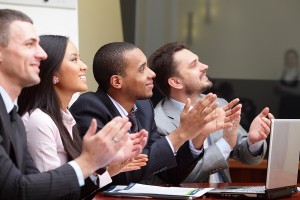 Using an audience feedback system at your organization's next event is an excellent way to get the audience more involved with the presentation material while simultaneously gaining valuable data from participants. However, it is essential that reliable response technology be used if you're to receive these benefits, as subpar products are known for having unreliable software and hardware that can malfunction during an event.
For the most reliable audience feedback system in the industry, turn to Padgett Communications. We've maintained a 100 percent success rate since 1995 because we offer only the finest response technology and outstanding service and support.
Here is an outline of what you will receive from us:
The service of an experienced Padgett Communications employee who will discuss your needs and ensure you get a feedback system that is ideal for your application
Support from a project manager who will travel to your event and handle equipment setup, ensure displays are easy to view by your audience, and walk you through using our system
Continued support during your event from your project manager who will be able to troubleshoot problems and make changes as needed
Instant storage and archiving of audience feedback that can be easily accessed later
Our services are available to organizations of any size and at events anywhere in the world. If you are interested in learning more about the benefits of turning to Padgett Communications for an audience feedback system, contact us today. We will gladly listen to your needs and provide you with a complimentary, fully itemized quote.