Audience Feedback Transmitter From Padgett Communications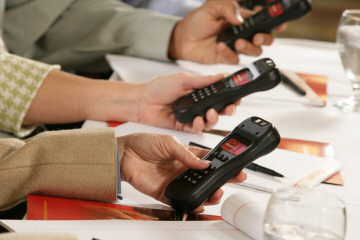 A reliable, easy-to-use audience feedback transmitter is only one of the many advantages of using a Padgett Communications audience response system (ARS) for your next meeting or group event. Our Reply™ handheld devices are the technological gold standard in the ARS industry, but what truly sets us apart is our world-class client care. You'll discover that our commitment to professional, efficient collaboration will make all the difference when critical audience response data needs to be compiled, analyzed, instantly displayed, and stored for future use.
Why risk your company's hard-earned reputation by going with a do-it-yourself "meeting in a box?" The price of failure is too steep to risk the potential pitfalls of cut-rate electronic voting systems, which include:
Equipment malfunction
Lost data
Limited technical support
Unreliable software
Increased time commitment for setup, training, programming, etc.
Much more
Padgett Communications offers a versatile array of handheld keypads, including the Reply™ Worldwide, the Reply™ Plus, and the Reply™ Mini. Your personal Padgett Communications project manager will work closely with you to determine which audience feedback transmitter best meets your requirements. Click or call today to ensure your next event is coordinated by the very best customer service in the ARS industry.