Audience Keypad Rental Devices Available from Industry Leader Padgett Communications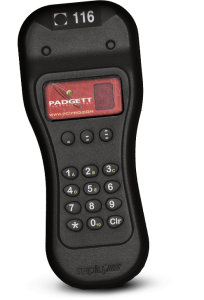 Having user-friendly keypad rental devices for your audience members to use is imperative if you plan on incorporating audience interaction at your upcoming meeting or event. At Padgett Communications, we offer several state-of-the-art handheld keypads that not only are simple to operate, but can be relied upon to deliver 100 percent reliable data from your poll questions. Our technicians are constantly analyzing changes and upgrades to audience response technology, and we recommend only proven software and equipment to our clients. This philosophy has helped us maintain a 100 percent success rate facilitating audience interaction at events and conferences for large and small businesses alike, as well as some popular game shows and talk shows that incorporate audience feedback.
The audience keypad rental options available from Padgett Communications include:
Padgett Worldwide – Our most popular keypad, it features a small, sleek design and has up to 10 answer options and an easy-to-read display that confirms a response has been received.
Padgett Plus – This voting keypad builds on the features of the Worldwide to provide advanced options for the next level of audience response and interactive games.
Padgett Mini – Smaller than a credit card, this keypad allows up to five answer options, and is ideal for use in classrooms or stadium seating events.
Padgett Ativa – Our most advanced keypad, it features a full-color, customizable LCD touch screen and allows questions and multiple choice answer options to be displayed on screen.
When choosing Padgett Communications, you will receive much more than a reliable audience keypad rental device. Unlike many other audience response rental companies, we won't simply send you the equipment and a set of instructions. We provide first-rate customer support, assigning a full-time Padgett project manager to work with you on-site for the duration of your event.
To learn more about our audience keypad rental devices and the outstanding customer support we provide along with our audience response rentals, please contact Padgett Communications today.