Keypad Rental for an Audience of Any Size from Padgett Communications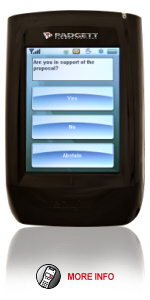 When the time comes for you to seek out an audience keypad system rental for a meeting, event, or conference, Padgett Communications is on your side. Since 1995, we have been the name to trust for audience response system (ARS) technology and handheld keypad rentals. We proudly offer all sorts of different ARS software, equipment, and handheld clickers for rent, and we can help you determine the ideal combination of each of these to be perfectly suited for your unique needs.
After you've made the decision to work with Padgett Communications for an ARS system, you'll just need to decide on which audience keypad rental is best for your needs. We are proud to offer four unique handheld keypads, each of which comes packed with state-of-the-art technology. You can choose from:
Padgett Mini – These keypads are small in size and designed to help your event attendees respond to basic, multiple-choice questions
Padgett Plus – With login capabilities and multi-digit functionality, these unique keypads can help you to track individual responses to questions and prompts
Padgett Worldwide – These handheld clickers feature everything that our Padgett Plus clickers offer, but are sleeker in design and also feature a full-color display technology
Padgett Ativa – Thanks to a full-color display, keyboard, and touch screen, these clickers are well suited for just about any application
To learn more about the ARS equipment and audience keypad system rental options available from Padgett Communications, please contact us today. We'll be pleased to help you find the right ARS equipment rental for your specific needs and can even provide you with an itemized quote to detail individual prices on everything you choose to rent from us.