How is an Audience Keypad System Better than Smart Phones?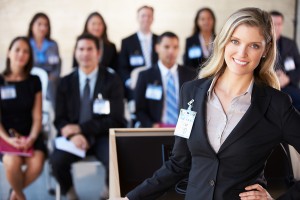 While smart phones are an incredibly convenient way to stay connected without having to stay in one place, they are not necessarily best for gathering audience feedback and encouraging interaction during a meeting or event. A Padgett Communications audience keypad system provides a convenient, secure, cost-certain solution that even today's wonderfully advanced smart phones simply can't match.
Whereas smart phones and similar devices are only as useful as the associated wireless signal, the audience keypad system from Padgett operates on a secure, dedicated radiofrequency. All of the apparent convenience of using smart phones as an audience response system (ARS) can be wiped away in an instant if a Wi-Fi connection goes bad. And who hasn't experienced spotty wireless signals in public settings, or even semi-private settings like closed meetings? Here are just a few potential problems that can plague a smart phone system:
Poor Internet connectivity
Incompatible operating systems from phone to phone
Varied price packages for text messaging
Potential for security breaches and incorrect login code entry by attendees
Delayed results because of a lagging or overloaded signal
Unreliable cellular signals
Attendees might be distracted by emails and smart phone apps
When you utilize an audience keypad system from Padgett Communications, you can rely on a perfect presentation. With more than 10,000 events under our belt, we have never failed to deliver exactly what we promised − world-class ARS service. Your specially assigned project manager (a Padgett employee, not a locally based contractor) will travel to your event site to oversee preparation and implementation. You also will be provided an upfront quote that is completely itemized, so you won't be shocked by any surprise charges on the final bill.
To learn more, or to request a quote for your next event, click or call today.