Get The Most Out Of Audience Participation With Padgett Communications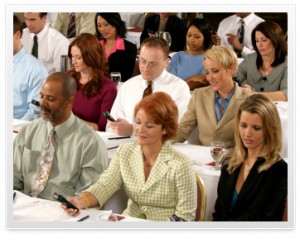 The gang's all here. What now? Would you rather carry on with the usual routine, or take full advantage of all that brain power gathered in one place? The answer should be obvious: If you want to get the absolute most out of your event, lively, engaged, and useful audience participation is a must.
How then, do you achieve that? Well, Padgett Communications is here to make it happen. From the moment you make that first call, you'll discover a level of customer service unlike any other in the ARS industry. Your personal project manager is with you every step of the way, from initial consult to on-site implementation to post-event analysis. Our commitment to customer service, coupled with the latest in hand-held keypad technology and software, will ensure energetic and focused audience participation by:
Simply illustrating complex concepts
Presenting poll results instantly
Consensus building
Streamlining the compilation and archiving of data
Allow for anonymous and accurate voting
Making instant demographic comparisons
Instantly gathering and archiving market information
Much more
Call or click today for a complimentary, itemized quote for your event. The ARS professionals from Padgett Communications have proven our worth time and again since we entered the field in 1995. Bring us aboard, and experience the highest standards of customer service and value in the ARS industry.