Enhance Audience Participation With Interactive Games From Padgett Communications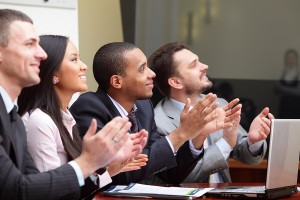 Sometimes, no amount of coffee is enough to get event attendees through yet another presentation. Drooping eyelids, nodding heads, stifled yawns – it can get ugly out there. But it doesn't have to be that way, not when you encourage audience participation with interactive games from Padgett Communications.
The hand-held keypad devices provided by Padgett Communications are not only good for responding to questions about statistics, demographics, and other important (but let's face it, somewhat dry) information. The "Padgett Gadgets," as talk-show host Dr. Phil calls them, also allow you to turn your event into an entertaining, interactive game show in the style of Jeopardy, Survivor, Deal or No Deal, and many other popular formats. Using a Padgett Communications audience response system for game shows is great for:
"Ice breaking" activities
Team building
Training exercises
New product testing
Information retention assessment
Much more
Call or click today for a free, itemized quote for your event. Your personal project manager will help you determine the best way to utilize the Padgett Communications hand-held devices and ARS software to get the most out of your event. Who knows? Enhancing audience participation with interactive games might even save you a little in your coffee budget.