Audience Polling Devices From Padgett Communications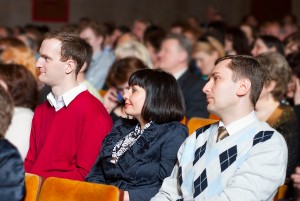 Audience polling devices from Padgett Communications put the unparalleled power of versatile, reliable audience feedback literally at your fingertips. Conduct real-time market research. Compile and display quantitative data from employees or potential clients instantly and accurately. Take a flash survey of an audience of any size. Use an audience response system (ARS) from Padgett Communications to enliven any event, big or small, and to ensure meaningful interaction among your participants.
In addition to world-class customer service, Padgett Communications is proud to provide a versatile array of handheld audience polling devices to enable innovative audience polling solutions:
The Reply™ Worldwide is our most popular keypad. It has 13 numeric keys to allow for up to 10 answer options, an easy-to-read display to confirm the response was received, and three hot keys to alert presenters to questions or comments.
The Reply™ Plus takes ARS to the next level, building on the basics of the Reply™ Worldwide with a two-line LCD display, multiple-room voting ability, an alarm function to signal if the keypad moves out of range, and multi-digit entry that allows up to 20 answer options.
The Reply™ Mini incorporates the most important features of ARS into a wearable keypad that is smaller than a credit card and can be attached to a customizable lanyard. These are ideal for stadium seating events, classroom settings, or other unique gatherings.
All of our handheld devices are ideal for gathering in-depth demographic information, as well. The ARS experts from Padgett Communications will work closely with you to determine which of our audience polling devices is right for your event. Click or call today to learn more about what makes Padgett the worldwide leader in the ARS industry. Don't make the mistake of thinking a "meeting in the a box" or DIY ARS service will suffice.