Why Padgett Communications Audience Polling Devices are Better than Smart Phones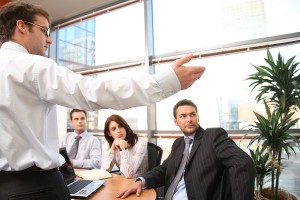 Before you risk your reputation on the functionality of an iPhone or Android-based smart phone, consider the reliable, versatile audience polling devices from Padgett Communications. While it might make sense on the surface to take advantage of the ubiquitous nature of smart phones – especially among people who move in technically savvy circles – it is important to know that there are some very real potential drawbacks to implementing smartphone voting for your next conference or event.
To begin with, smartphones as audience polling devices really only work for you if every attendee has the same brand of phone. But there are Android people, and there are iPhone people, and (almost) never the twain shall meet. There also might be BlackBerry people, although those are becoming more scarce, and other smartphone platforms such as Windows are beginning to take hold. So, it's probably best to avoid going the smartphone route unless you are willing to pay to supply every attendee with the exact same type of device, for planning and training support personnel, and the expense of on-site technological support. Another expense is a secure, dedicated wireless network, which will need to be carefully maintained throughout the duration of the event.
Even if you are willing to pay for all of that to use smartphones as audience polling devices, the potential drawbacks are many. They include:
Poor Internet connectivity
Incompatible operating systems from phone to phone
Varying prices for text messaging
Potential for incorrect text message code entry by attendees
Delayed results
Unreliable cellular signals
Less focus by the attendees on the presentation, more focus on emails and apps
Whereas, when you use Padgett Communications' audience polling devices, you can rely on:
Reliable, user-friendly handheld keypads
A full-time project manager, trained and employed by Padgett Communications
On-site support for setup, coordination, and troubleshooting
Pre-event planning to determine which of our many meeting applications can best serve your needs
Instant archiving and permanent, secure storage of data for easy access in the future
A completely itemized up-front quote
To learn more about how our audience polling devices trump smartphones every time, click or call today.