Audience Polling and Instant Audience Response Systems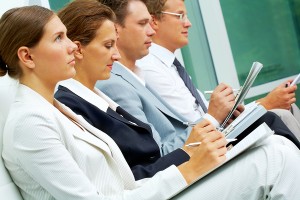 When you need expert audience polling help with an array of response systems at your disposal, turn to the audience response professionals from Padgett Communications.
You'll find no better audience response system (ARS) provider than Padgett, the undisputed international leader in audience polling. Our advanced audience response systems expertise has put us at the forefront of the ARS industry since 1995, and our deep list of completely satisfied Fortune 500 clients is only one indication of that. What sets us apart – one of the main reasons we're the ARS provider of choice for many daytime and primetime nationally syndicated television talk shows – is our commitment to unparalleled customer service. We care deeply about the success of each and every event we handle, and we're proud to say we've never failed a single customer.
When you bring Padgett Communications aboard as your ARS system provider, you get:
A full-time Padgett Communications project manager who helps determine the type and number of state-of-the-art, handheld keypad devices you'll need, what format you'll use for questions and answers, and how your information will be displayed in real-time.
An on-site partner who coordinates hardware setup, software setup, rehearsal, and everything it takes to ensure a smooth, productive presentation.
Unparalleled flexibility that allows you to adjust your program on the fly when and if you need to.
Instantly stored and archived data for fast, easy access later.
Click or call today to get started with a complimentary quote on the audience polling for your next event, meeting, or conference. You'll soon discover that the audience response systems technology we have for rent, coupled with our personable service, will be one of the best business decisions you ever made.