Which of Our Handheld Audience Response Devices is Right for Your Conference or Event?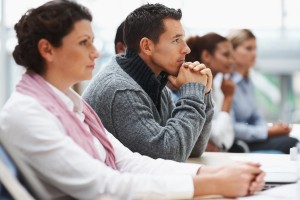 When you hire Padgett Communications to handle the implementation and execution of the audience response system for your next event or meeting, one of the big advantages is the ability to choose from among a wide variety of state-of-the-art audience response devices. We offer four different kinds of handheld devices, each of which offers a high level of utility for any number of purposes.
How you intend to structure your conference or meeting is one determining factor when it comes to choosing which of our audience response devices is right for you. The Padgett Worldwide®, the Padgett Plus®, the Padgett Mini® and the Padgett Ativa® all have different features that are geared toward specific group sizes, interactions, questions, and other audience feedback factors. In addition, all of our handheld devices:
Are completely customizable with your company's logo
Are field tested around the world for reliability and ease of user interface
Are electronically tagged with stored ID addresses, making the data collected with each instantly identifiable based on the individual terminals
Operate on a robust, frequency-hopping spread spectrum (FHSS) to eliminate signal interference
Have separately programmable hot keys (except the touchscreen Ativa)
Are protected by durable, thermoplastic outer cases
Your Padgett project manager will work closely with you to determine which of our audience response devices is right for you, and will be on-site to trouble shoot and conduct the rehearsal. Click to call today to find out more or to ask for a completely itemized quote for your next meeting or event.