Never Worry About Software Malfunctions or Other Glitches with Padgett Audience Response Devices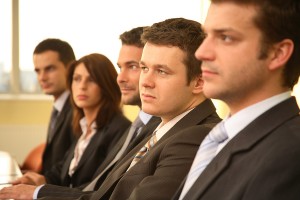 Padgett Communications' state-of-the-art audience response devices go a long way toward eliminating the possibility that something might go wrong during a big presentation. You know how vital reliable hardware and software can be if you have ever tried to use the "meeting-in-a-box" option for your event's audience response system (ARS). Rather than take the chance that an unfamiliar ARS setup might malfunction, it makes far more sense to work directly with the ARS professionals from Padgett Communications. Our project managers have seen it all and know how to prepare for any contingency.
Of course, even the most well-planned event can suffer unexpected twists and turns. That's why in addition to providing audience response devices with unparalleled functionality and reliability, Padgett sends a project manager to oversee every facet of every event we work. So, before you decide whether to attempt do-it-yourself ARS, ask yourself how you would respond to the following:
A hardware malfunction
A software glitch
Lost or trapped data
An audio problem
A video problem
And that just scratches the surface. Yet, with audience response devices and an on-site project manager from Padgett, you never have to worry. Your project manager will be in charge of every aspect of ARS, leaving event organizers to handle the usual big wave of last-minute tasks inherent to any meeting or conference. We set up the hardware, program the audience response devices to your specifications, check the software, conduct the rehearsal, and do everything necessary to prepare for the event. We can even help you change the program on the fly, if you like. In short, we do it all, and we do it with a level of professionalism and preparedness that is unparalleled in the ARS industry.
To learn more about how Padgett Communications' audience response devices and an on-site project manager can help you handle any and all contingencies, click or call today.