Audience Response Equipment Rentals Available from Padgett Communications
If you're looking to rent audience response equipment for an upcoming conference, meeting, or other event, it is in your best interest to rent from Padgett Communications. Why exactly is that? Quite simply, it's because Padgett Communications is the undisputed leader in the audience response system (ARS) industry. Since 1995, we have striven to be the premier ARS company around, and we go to great lengths to ensure that everything we do is first-rate. Because of that, we proudly boast a 100 percent success rate.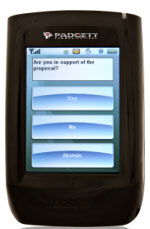 Our audience response system equipment can be used for all sorts of different applications, such as:
Recording audience polling data, with parameters you select
Engaging your audience with fun games
Running elections
Facilitating employee training sessions
Administering quizzes and tests in a classroom-like setting
Presenting interactive trade show exhibits
Receiving input from employees, and instantaneously displaying the data for all to see
Conducting focus groups
And so much more – the possibilities are essentially endless
When you choose Padgett Communications for an ARS rental, you won't simply receive our equipment and be left in the dark about how to use it all. Instead, we'll also provide you with a dedicated project manager from our team to handle all the technicalities of the equipment and to walk you through it all, so you're fully prepared to run a successful event when the big moment arrives.
For additional information in regard to the audience response equipment that we can rent to you for an upcoming meeting or event, please contact Padgett Communications today. We'll be happy to answer any questions you have and even provide you with an itemized quote for your ARS rental.