Audience Response Handset Devices from Padgett Communications Help to Make Conferences, Meetings & Events Run More Smoothly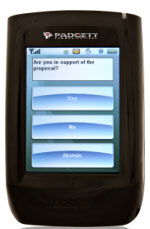 The next time you need to rent audience response system (ARS) handset equipment and software for a meeting, conference, or event, don't rent from just any company. Instead, elect to rent from the company regarded as the leader in the business – Padgett Communications. At Padgett Communications, we proudly rent all different types of handset devices for audience response systems. Our immaculate selection includes:
Padgett Mini – As the smallest and most basic option that we rent to companies and organizations all across the globe, these clickers are the ideal choice for when you plan to only pose multiple-choice questions to the attendees of your event.
Padgett Plus – Thanks to login capacities and multi-digit capabilities, these ARS handset devices can help you keep better track of individual responses and allow you to pose more in-depth questions and prompts.
Padgett Worldwide – Similar in capacity to our Padgett Plus, these keypads are wrapped up in a more user-friendly and ergonomic design, and they also come with a full-color display.
Padgett Ativa – Truly the top-of-the-line offering from Padgett, these clickers come with full keyboards, touch screens, and full-color displays, making them especially versatile and highly user friendly.
For even more information about the array of audience response handset options that we proudly rent to businesses and organizations across the globe, as well as the innovative software that we can provide for you, please contact us today. When you do, we'll help you find the perfect rental options for you and even provide you with a completely itemized quote for everything you choose to rent from us.