Audience Response Keypad Rentals Available from Padgett Communications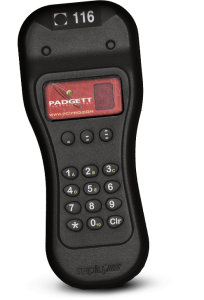 At Padgett Communications, we proudly supply state-of-the-art audience response system (ARS) keypad rentals to businesses and organizations in every corner of the globe. Since 1995, we have provided our innovative ARS equipment to companies and organizations spanning all different industries, and we've made it a point to always provide top-notch service. No matter why you are in search of ARS technology and keypads, you can rely on Padgett Communications to answer the call.
Probably the only thing that might be the slightest bit difficult about renting an audience response keypad and software system from Padgett Communications is selecting the keypads that best suit your needs. Luckily for you, we offer a variety of different options, including:
Padgett Mini – As our smallest option, this keypad is ideal for having your event attendees respond to only simple, multiple-choice questions.
Padgett Plus – Thanks to login capabilities and multi-functional capacities, this keypad is better suited for keeping track of individual responses and allowing attendees to respond to more in-depth questions.
Padgett Worldwide – Similar to the Padgett Plus, but with a sleeker, more ergonomic design and a full-color display.
Padgett Ativa – With a touch screen, full keyboard, and full-color display, this option is truly the finest one that we offer for rent.
If you'd like to find out more about the audience response keypad rentals available from Padgett Communications, as well as information about the distinguishing factors of each of the keypads, please contact us today. We'll happily help you find what you need, and we'll also provide you with a fully itemized quote for all that you choose to rent from us.