Padgett's Audience Response Products Facilitate Team Building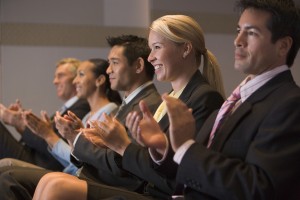 Padgett Communications provides audience response products that are ideal for team building among your organization's employees. The game show format is particularly effective for creating an atmosphere of collegiality while also helping participants learn a thing or two about themselves, their colleagues and/or the workplace they share.
Padgett's world-class client care includes a detailed plan for how you can best utilize our many audience response products. Early on in the planning process for implementing our world-class audience response service, one of the first things you'll talk about with your specially assigned project manager is your event goals. Learning your goals for the meeting, along with information about your organization's culture, will help us determine the best way to encourage audience engagement.
Our game shows can be used as team-building exercises, for gathering demographic information, for testing the institutional knowledge of a group of employees, for reinforcing an organization's philosophy, and more. Game shows are a great way to get audience members to invest emotion into a presentation. Participants can engage as individuals or in teams, with standard question-and-answer formats or a number of other game types, including:
Casino-style games
Who Wants to Be a Billionaire?
Speed-scored trivia
Team or individual questions
Jeopardy!
Other popular TV game show formats
To learn more about encouraging audience engagement with our advanced audience response products, or to request an all-inclusive quote for your next meeting or event, click or call today.