Audience Response System Rental Equipment from Industry-Leading ARS Service Provider Padgett Communications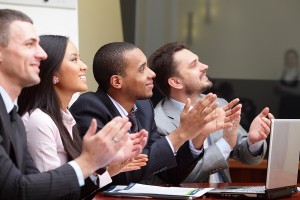 To get the most out of your audience response system (ARS) rental, turn to Padgett Communications, an industry-leading audience response service provider that has built a reputation for delivering exceptional products and world-class service. There are many companies in the ARS industry that will promise great results, but Padgett Communications has the track record to prove it. We've supplied audience response services at meetings and conferences held in cities around the globe, and we've maintained a 100 percent success rate since breaking into the ARS industry in 1995.
There are multiple benefits to choosing Padgett Communications when you need an audience response rental package for your event, including:
A Padgett Communications project manager working on-site with you and providing expert service for the duration of your event
State-of-the-art, user-friendly handheld keypads that make it simple for audience members to provide feedback to questions that are posed
Instant archiving and permanent storage of the data provided by your audience, making it easily accessible whenever you need it
Don't waste your time or money with inferior audience response technology or with ARS providers who ask audience members to participate in response segments via their smartphones, which have proven unreliable time and again. With Padgett Communications, you get equipment that is field-tested and guaranteed to deliver 100 percent reliable data, and you receive assistance from a full-time company employee who has vast experience working with our specific ARS equipment, not some third-party contractor.
Contact Padgett Communications to receive a free, itemized quote for our audience response system rental equipment and ARS service.