Audience Polling Rental From Padgett Communications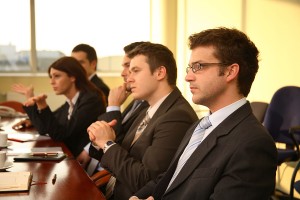 Audience polling rental is about much more than just equipment and software. Any run-of-the-mill audience response system (ARS) company can ship you a box of keypads and a set of instructions, but how will you know for sure that your event will go off without a hitch? Keypads can fail, software can crash, and a meeting can quickly disintegrate into a colossal waste of time. None of this is a problem when you partner with Padgett Communications, the worldwide leader in the ARS industry.
When you choose Padgett Communications for your audience polling rental, you get:
Reliable, state-of-the-art, user-friendly handheld keypads
A full-time project manager, trained and employed by Padgett Communications
On-site responsibility for setup, coordination, and troubleshooting
Pre-event planning to determine which of Padgett Communications® many meeting applications can best serve your needs
Instant archiving and permanent storage of data for easy access in the future
The peace of mind that comes with knowing your ARS needs are being met by competent professionals with a proven track record
Cost certainty with a completely itemized quote
Since our founding in 1995, Padgett Communications has achieved a 100 percent success rate with thousands of events of all sizes around the world. The secret to our success? Efficient, professional collaboration during audience response rentals.
Call or click today for audience polling rental from Padgett Communications. We'll gladly provide a free, itemized quote for your event.