Audience Response System Rentals from the Leader in the Industry – Padgett Communications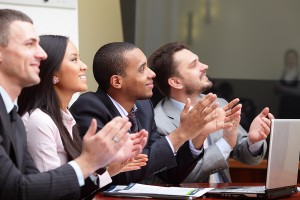 When it comes to audience response system (ARS) rental equipment, there's no better company to turn to for the products and services you need than Padgett Communications. We proudly supply the finest ARS systems to companies, conferences, and other events all around the globe, bringing the Padgett expertise everywhere we go. If nothing but the finest ARS equipment and services will do for you, be sure to choose Padgett.
Renting audience response equipment from Padgett Communications is truly unlike renting from any other company. We strive to provide exemplary service in all that we do. When you choose us for your rental, we will:
Properly set up all audience response equipment and install all software before your event
Make certain that all projector screens, displays, and video boards are in proper working order and visible for all to see
Send along one of our personal project managers to handle everything for you and provide you with a pre-event walkthrough to familiarize you with how everything will be carried out
Be next to you throughout the event to give you added confidence and to quickly troubleshoot any problems that might arise
To learn more about the state-of-the-art audience response rental equipment from Padgett Communications and how it can turn your event into a rousing success, please contact us today. A representative from the Padgett team will happily help you find a solution tailored to your needs and provide a totally itemized quote containing everything you plan to rent from us.