Audience Response Software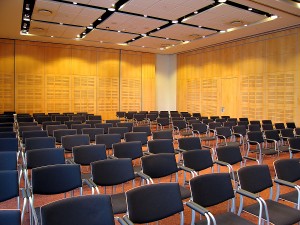 An audience response system (ARS) featuring cutting-edge audience response software from Padgett Communications helps event and meeting planners initiate a productive, meaningful conversation between event attendees and the on-stage speaker. The software is connected to state-of-the-art wireless devices, which serve as a conduit between presenter and audience members. The data can be gathered through an endless selection of question and answer formats, including true-false, either-or, multiple choice, and much more. Gather demographic information and product comparison information, build consensus through interactive voting, or liven up the event with an interactive game show.
Plus, our audience response software is designed to enable instant compilation and storage of audience data. So, say goodbye forever to the time-consuming and grueling process of analyzing handwritten feedback surveys. You'll never have to wait days or weeks for important data, which is securely stored on our servers for easy access later.
That data also can be presented instantly for the audience, if desired, and our reliable audience response software can be programmed to display using the following options:
Percentages
Raw data
Pie graphs
Horizontal and vertical bars
Individual and team rankings
Comparison charts
X-Y mapping
Much more
Along with state-of-the-art audience response software and polling devices, Padgett Communications provides the most conscientious client services in the ARS industry. We are fully invested in every event from start to finish, because when you look good, we look good. Call or click today for a completely itemized, complimentary quote for your next event, meeting, or focus group.