Padgett Communications – Providing Audience Response System Clickers to Companies and Events Worldwide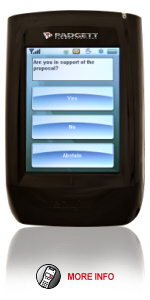 At Padgett Communications, we proudly rent audience response system (ARS) equipment and clickers to companies, conferences, and various types of events all over the globe. We proudly offer a multitude of ARS systems, and we'll be happy to help you find the perfect one for your specific needs.
For each ARS system that we rent, we offer up four different types of handheld clickers, and allow you to pick the right option for your specific needs. The different wireless clickers that we have available and can rent to you include:
Padgett Mini – Our smallest option is perfect for responding to basic multiple-choice questions.
Padgett Plus – Slightly larger, and with multi-digit functionality and login capabilities, this option is a big step up from the Padgett Mini.
Padgett Worldwide – This clicker is everything that our Padgett Plus is, but also features a sleeker design and a full-color display.
Padgett Ativa – Truly our finest option, this clicker includes a full-color display, touchscreen, and keyboard, making it perfect for responding to just about any type of question or prompt.
Regardless of the clickers that you choose for your event, you can rest assured that we'll be there for you to help you make sense of all the high-tech equipment we provide for you. In fact, we'll even send along one of our project managers to help streamline the process for you and ensure that everything goes off without a hitch. This person will set up all equipment, help you to get familiarized with how it all works, and be there throughout the event to quickly troubleshoot any problems. With service like this, it's no wonder why we maintain a 100 percent success rate.
So, to learn more about renting an audience response system with handheld clickers from Padgett Communications, please contact us today. When you do, we'll gladly provide you with a complete, itemized quote that entails everything you rent from us.