An Audience Response Systems Comparison: What Sets Us Apart
A comparison of audience response systems (ARS) firms might begin with cost, but it should never end there. To focus merely on the bottom line would be to ignore the undeniable value of the kind of ARS expertise and reliability only Padgett Communications can provide.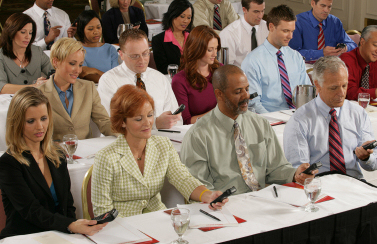 Why settle for the impersonal "meeting in a box" offered by some ARS companies?
At Padgett Communications, it's about so much more than hardware and software, and most audience response system reviews agree. The personal touch sets us apart, and we take full responsibility for the ARS management of your event. That means you can leave audience engagement and data compilation to us, while you focus your attention elsewhere. Never worry again about faulty equipment, lost data, or malfunctioning software. When you partner with Padgett, you get the peace of mind that comes with:
A 100 percent success rate with thousands of events worldwide since 1995.
On-site service and support, overseen by a Padgett Communications project manager – never a subcontracted freelancer.
Rehearsal run-throughs to double-check the equipment, the audience sight lines, and the acoustic integrity of your auditorium or conference room.
Detailed, itemized quotes with absolutely no hidden charges.
Professional, personalized communication and collaboration from start to finish.
At Padgett Communications, we truly care about our clients, and it shows with the attention to detail and level of support we bring to every event. Other ARS firms may promise perfection. Our track record proves it. Call or click today to learn more about our audience response systems, or for an itemized quote for your event.