Using an Audience Response System to Measure and Instantly Display Audience Feedback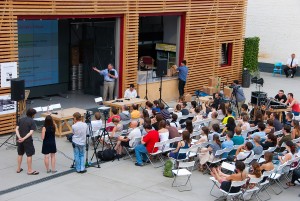 An audience response system from Padgett Communications not only enables immediate give and take with the members of your audience; it also provides the ability to instantly measure, process, and display the information gleaned from the conversation with a variety of impactful graphics and presentation solutions. This capability can be especially useful if your meeting or event is intended to build consensus or prioritize shared concepts, gauge support for new ideas, identify what's working and what's not in an organization, or to conduct new product research with real-time user data.
The Padgett Communications audience response system includes a wide array of presentation options, including:
Dynamic graphics in 2D or 3D
Bar charts (vertical or horizontal)
Layered geometric shapes in 2D or 3D (pyramids, etc.)
Pie charts in 2D or 3D
Dynamic or static graphs
And many more
Before your meeting or event, you and your personally assigned Padgett project manager will work together to determine the questions you would like to pose to your audience, if any. Next, your project manager will help you determine the most effective method of presenting the results compiled from the individual answers of the audience members. Our audience response system also gives you the option of creating a completely immersive digital environment on your display screen or screens, giving you the power to shape the atmosphere and tone of the event exactly as you see fit.
For information about the many display options we provide at Padgett, click or call today. We will provide a completely itemized quote on the audience response system for your next meeting, conference, or event, anywhere in the world.