Audience Response System Rental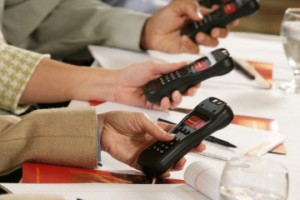 An audience response system (ARS) rental from Padgett Communications will help event planners and meeting professionals avoid the hassle that often accompanies the purchase of ARS equipment.
Padgett has an audience response system rental that is sure to fit your budget. So, before you decide to buy ARS equipment, we suggest that you consider the following:
How often will you use ARS services?
How large or small are your audiences?
Do you have the resources and time to dedicate to ARS training?
Can you securely store and maintain the necessary ARS equipment?
Really, wouldn't it be better to leave the ARS to the pros from Padgett? As an ARS industry pioneer with more than three decades of experience, we understand what it takes to provide ARS equipment for seamless audience feedback, no matter the event's purpose or size. With a national and international footprint, we can serve events virtually anywhere in the world.
Top Reasons to Choose Us
We will walk you through the different ARS systems, software, and handheld keypad devices, and guide you on selecting the best options for your specific needs. Our state-of-the-art handheld devices help a presenter and audience members carry on useful, meaningful give-and-take. Two of our most popular keypads are:
The Padgett Worldwide – Sleekly designed and easy to operate, this device comes with all the features that you most frequently need, include 13 numeric keys that allow up to 10 answer options, and three "soft keys" for alerting presenters to comments from event participants.
The Padgett Plus – With advanced features such as keys that allow up to 20 answer options, this handheld device is compatible with Reply software and PowerPoint® add-ins.
These field-tested keypads operate on secure, reliable radio frequency transmissions eliminate concerns about dropped cellular signals or spotty wireless coverage. Our many question and answer formats, along with a wide variety of real-time display options, provide focus and keep an audience engaged and interested.
Plus, you get all this with our unmatched level of client care. When you hire Padgett, we take care of preparing the presentation plan, as well as setup, rehearsal, on-the-fly adjustments (if necessary), and data archiving.
Most important, an audience response system rental from Padgett comes with a personal project manager, an experienced ARS partner to work hand-in-hand with you as you prepare for your focus group, meeting, or event. Simply put, Padgett Communications doesn't employ freelance help. Your project manager is an actual Padgett employee who will come to your event and work side by side with you, handling any and all ARS concerns while you focus on other things that demand your attention. After all, there's much more to ARS than the hardware and software, and having a qualified technician on hand to offer guidance guarantees a successful outcome and saves untold time and stress. Considering this personalized level of service, it's no surprise that more than 70% percent of Padgett's business comes from repeat customers.
At Padgett, we like to say that our brand of customer service doesn't come in a box. Our trained staffers take the time to completely understand our clients' goals so that we can design an ARS plan tailored to your event. And we'll be right there with you every step of the way to ensure flawless performance. Our unwavering commitment to complete service helps to explain our 100% success rate.
Are you ready to experience ARS technology and service that sets the industry standard? That kind of customer service simply doesn't come in a box. Call or click today for a completely itemized, complimentary ARS rental quote for your next event.