Padgett Communications Provides Audience Response Systems for Events on a Global Scale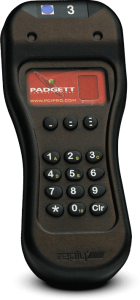 Would you like to rent audience response systems (ARS) to help make an upcoming event run smoothly and go off without a hitch, keeping attendees thoroughly engaged all the while? If so, let the professional staff at Padgett Communications work alongside you to provide precisely what you're looking for. We know ARS systems inside and out, and we'll work diligently to provide you with an ARS rental that is ideal for your needs. And, from beginning to end, you'll experience truly personalized service from some of the most knowledgeable and attentive individuals in the ARS business.
The audience response systems that we rent out come complete with handheld keypad devices that will be distributed to every attendee of your meeting or event. We offer a number of different keypads to choose from, including:
Padgett Mini – Our smallest option, this keypad is intended for basic functions, such as responding to multiple-choice questions.
Padgett Plus – With login capacities and multi-digit functionality, this option enables attendees to answer more in-depth questions.
Padgett Worldwide – This option is similar to the Padgett Plus, but features a sleeker design and a full-color display.
Padgett Ativa – Our top-of-the-line model features a full-color display, touch screen, and keyboard to allow attendees to respond to just about any type of question you can think up.
If you'd like to incorporate audience response systems into your upcoming event, please contact us today. When you do, we'll guide you through our different rental equipment and services to help you find a solution completely tailored to your unique needs.