State-of-the-Art Audience Response Technology for Rent for Conferences and Events Around the Globe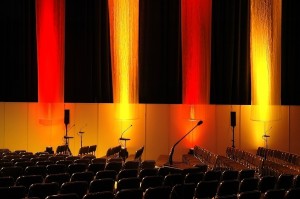 If you're looking to rent audience response technology for your next event or meeting, turn to the experts at Padgett Communications. Since our founding in 1995, we've earned a reputation as leaders in the audience response system (ARS) industry because we've helped countless organizations around the world make the most of their conferences by providing the most reliable audience response systems and outstanding customer service.
Why should you turn to Padgett Communications to rent audience response technology? When you hire us, we will provide:
The services of an experienced project manager who will provide on-site support for the duration of your event.
User-friendly equipment that has been thoroughly tested to ensure it functions properly during your presentation.
An itemized quote that will make it easy for you to understand all of the costs associated with our ARS service.
When you take advantage of Padgett Communications' ARS rental service, you'll not only get reliable, state-of-the-art products, but also peace of mind. We've facilitated the use of our systems at thousands of events with a 100 percent success rate, so you can rest assured that your presentation will run smoothly from start to finish.
If you'd like to learn more about the benefits of renting audience response technology from a company that goes above and beyond to ensure the satisfaction of its customers, contact Padgett Communications. We're proud to serve businesses of all sizes in countries around the world.