Gauge Audience Response to Products in Real Time With Padgett Communications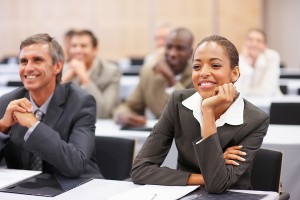 If you've ever ended a live feedback presentation or focus group questioning the accuracy of measuring the audience response to your products, you might also wonder if there's a better way. In fact, there is: An audience response system (ARS) from Padgett Communications removes any uncertainty about how audience members really feel about your product or products. The best part is, you won't have to spend days or weeks waiting for data from hand-written surveys to be compiled and analyzed, because Padgett's ARS happens in real time. And it's never a boring presentation, either, because Padgett gives you many options for livening up the event, including interactive game shows and real-time trivia contests.
Here's how it works:
A full-time Padgett Communications employee serves as your project manager, helping determine the type and number of state-of-the-art, handheld live audience feedback devices you'll need, the format you'll use for questions and answers, and how your information will be displayed in real-time.
Your project manager works on-site with the event planner, coordinating hardware setup, rehearsal, software setup, and everything it takes to ensure a smooth, productive presentation.
During the presentation, Padgett Communications is there to help you adjust your program on the fly, if desired, increasing audience involvement and learning.
As you collect audience feedback, it is instantly stored and archived for fast, easy access later.
Since entering the ARS field in 1995, Padgett Communications has achieved a 100 percent success rate at thousands of events. Every client has been satisfied, and they know where to turn when they need accurate, real-time audience response to products during focus groups or feedback sessions. We are fully invested in every event, because we know that we look good when you look good. Call or click today for a complimentary, completely itemized quote for your next meeting or event.