Audience Response Wireless Keypad Rentals from Padgett Communications for Companies Worldwide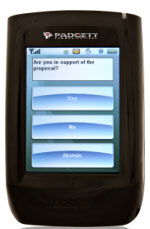 Padgett Communications is the premier name trusted for audience response system (ARS) wireless keypad and software rentals for businesses and organizations throughout the world. Our innovative ARS equipment is well suited to be used in many different applications, all of which can be tailored specifically to your needs. Whether you plan to host just a few attendees or a few thousand, we have the capacity to provide ARS keypads for all.
Just one of the many benefits of choosing to rent an audience response system from Padgett Communications is that you'll be able to select from a tremendous range of handheld clickers. Our incredible selection consists of:
Padgett Mini – As the smallest and most inexpensive option in our lineup, these unique keypads are designed to be especially simple to use for responding to basic, multiple-choice questions.
Padgett Plus – Slightly larger than the Padgett Mini, these keypads are engineered with login capacities and multi-digit functionality, making them better suited for responding to more in-depth questions and prompts.
Padgett Worldwide – With a full-color display and an especially ergonomic design, these handheld clickers are a significant upgrade from both our Padgett Mini and Padgett Plus options.
Padgett Ativa – Thanks to easy-to-operate keyboards, full-color displays, touch screens, and a bevy of other technological advancements, these handheld devices make it simple for event attendees to quickly respond to in-depth and open-ended questions of all sorts.
To learn more about the audience response systems rentals and wireless keypad options offered by Padgett Communications to companies and organizations across the globe, please contact us today. Whether you need just a few wireless keypads or enough for thousands of event attendees, we can answer the call. And, we'll always provide you with a complete, itemized quote, so you'll know exactly what everything will cost ahead of time.