Advanced Audience Voting Devices Simplify Interaction and Feedback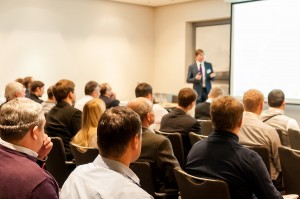 One feature that helps make Padgett Communications an industry leader in the audience response systems field is the wide range of advanced handheld audience voting devices we provide for our clients. There are four in all, each of which allow for simple interaction through the push of a button or the touch of a screen. The easy-to-use interface ensures enthusiastic participation and reliable audience feedback at your next event.
Here is a brief overview of the four audience voting devices we offer:
Padgett Worldwide − a small, sleek clicker that works on a robust frequency-hopping spread-spectrum system. Because it operates in the unlicensed 2.4GHz band, it's available for sale or for rent in the US (FCC certified), Canada (IC certified), and Europe (CE certified) as well as many other international regions/countries. This is our most popular device.
Padgett Plus − an advanced keypad that builds on the basics of the Worldwide with a two-line LCD display, multiple-room voting ability, an alarm function to alert users if they've moved out of range, and more. Multi-digit entry functionality allows up to 20 answer options.
Padgett Mini − a wearable keypad that's smaller than a credit card, but sturdy, and fits easily in the palm of your hand. The Mini weighs less than an ounce and can be worn on a brandable lanyard. Five basic answer options are displayed on the keypad in numbers and letters for easy answer entry. This simplified device is ideal for a stadium setting, a classroom, or other unique events with large attendance.
Padgett Ativa − a touch screen device with a full-color, customizable LCD screen. Full alphanumeric input capability by onscreen QWERTY keyboard allows for SMS-style texting. An onscreen slider provides moment-by-moment response capability. Touch-surface input by finger or stylus and offline operation allows for self-paced response capability.
To learn more about the audience voting devices we offer for rent, or to request an itemized quote for your next meeting or conference, click or call today.