Comprehensive Audience Voting Solutions for Organizations of All Sizes in Any Location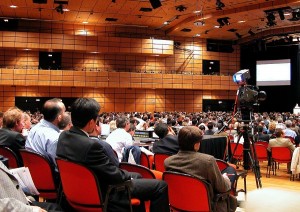 At Padgett Communications, we specialize in providing audience voting solutions that are reliable, versatile, and tailored to the needs of our clients. Our systems and services have been trusted by organizations ranging from Fortune 500 companies and large energy companies to sororities and mid-size professional associations. This is in part due to our use of innovative technology that can be customized to fit virtually any requirement. For example, if you're holding an election in which delegates have varying voting weights, we can import or create a weighted list. We even have systems with secure login features and ones with versatile selection capabilities, making such tasks as voting for multi-seated offices a breeze.
What truly sets Padgett Communications' audience voting solutions apart from the competitions' is our full-service approach. When you work with us, you can expect top-notch customer service from start to finish, which will include sending a project manager to your event to:
Set up all of your equipment, install software, and configure any monitors and display boards
Conduct a rehearsal to familiarize you with our equipment
Make preparations for any contingency before your event or election
Troubleshoot issue and make changes on the spot during your event
This unparalleled commitment to customer service has resulted in our maintaining a 100 percent success rate over the course of more than 20 years and countless events. If you'd like more information about the audience voting solutions that we offer to organizations around the globe, contact Padgett Communications today. We will happily discuss your needs and provide you with a complete price quote.