Why an Audience Voting System is More Reliable with a Full-time Project Manager On Site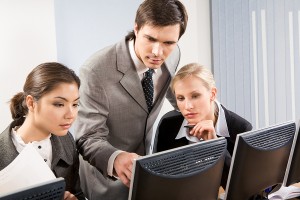 An important quality that sets Padgett Communications apart from most audience voting system vendors is that we will never use freelance contractors to implement our services at your event, conference, or meeting. Our nearly two dozen full-time project managers travel all over the world to attend our clients' events and oversee every aspect of ARS facilitation, including:
Installation and testing of equipment
Programming of software
Troubleshooting of equipment and software
Conducting rehearsals
Enabling Q&A sessions after the presentation
Because our project managers are experienced, knowledgeable, full-time Padgett employees, they are equipped to interact with high-level executives in a professional manner. Our project managers also are prepared to deal efficiently with any unforeseen circumstances with an audience voting system, such as an on-the-spot decision to change the program on the fly.
If you have ever attempted to use a DIY audience voting system, such as a "meeting in a box" or smartphones, you know that there is a greater risk of failure. Do-it-yourself audience response systems only seem like a good idea until something goes wrong. Rather than face the uncertainty of that or an inexperienced freelance contractor, why not enjoy the peace of mind that comes with having an experienced professional from Padgett Communications on hand to be responsible for ARS implementation? With Padgett, you always get a qualified, full-time employee on-site to guide you through the ARS process from beginning to end, guaranteeing a successful outcome every time.
To learn more, or request a completely itemized quote for your next event or conference, click or call Padgett Communications today.