Audience Participation Games Made Easy with ARS Rentals from Padgett Communications
Incorporating audience participations games into a meeting or event is often the best way to keep participants fully engaged from beginning to end. If you'd like to turn your next event into something truly extraordinary and memorable by facilitating interactive games, be sure to rent audience response systems (ARS) from Padgett Communications. Our technology is the ideal solution you're looking for to liven up your event, and we'll go to great lengths to ensure that you're satisfied with what we provide.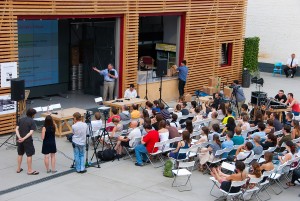 Some of the different types of audience participation games that you can play using Padgett ARS equipment include:
Current event quizzes
Fun company history games
Games based on popular television shows, such as Jeopardy! and Who Wants to Be a Millionaire?
Trivia games
Other types of multiple choice, true/false, and yes/no questions that can be incorporated into a game format
The possibilities for games are essentially endless, and they can all be tailored to meet your specific needs. So, if you want to incorporate your company's colors or logos into the display of the games, we can make it happen. And, best of all, you'll have a representative from Padgett Communications by your side throughout your event who will help to ensure that everything goes just as you plan.
To learn more about the different audience participation games you can incorporate into your upcoming event, conference, or meeting, please contact Padgett Communications today. When you do, we'll inquire about all that you are looking for in an ARS rental in order to provide you with a complimentary itemized quote.