Audience Response System Rentals for Meetings & Conferences in Cities Worldwide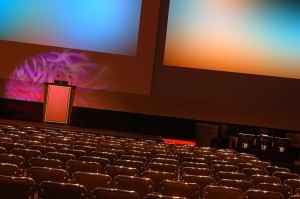 When analyzing potential audience response system (ARS) rentals, one thing you need to strongly consider is how much – if any – support you will receive from the company you choose. This may not seem that important initially, but the last thing you want is for trouble to arise with the equipment or software and not have someone available to troubleshoot the issues. This is where industry leader Padgett Communications differs from many other audience response system (ARS) rental companies.
We offer world-class support for the duration of your event, assigning a full-time project manager to work with you on-site. While other companies offering audience response rentals may force you to rely on a set of instructions or a hired contractor to rectify any issues, we provide a highly trained individual who has expertise working with the precise technology you and your audience members will be using. And, this project manager will provide a wealth of other benefits as well, including equipment setup, pre-rehearsal testing, and flexibility throughout your event in case you need to adjust your audience participation segments.
Other benefits of renting an audience response system from Padgett Communications include:
Reliable, user-friendly handheld keypads for your audience members to use
Instant archiving and permanent storage of all audience-generated data, providing easy access to results whenever you need them
A free, itemized quote for ARS service, so you will know the exact costs for our audience response systems for rent
Contact Padgett Communications today to learn more about why we are regarded as an industry leader for audience response rentals and the benefits of partnering with us for your next event.