Reliable Audience Response Technology for Rent for Events & Conferences in Cities Around the World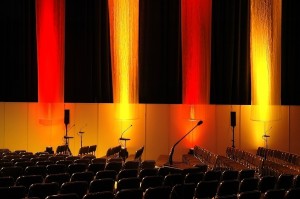 If you are a meeting planner who needs to rent audience response technology for an upcoming event, then turn to the audience response system (ARS) experts at Padgett Communications. We offer cutting-edge software and equipment that is proven 100 percent reliable, and we offer full-service customer support that is truly second to no other ARS provider. Since breaking into the audience response industry in 1995, we've established ourselves as an industry leader, thanks to our perfect success rate facilitating audience response services at events held around the world. We've worked with Fortune 500 companies, locally owned and operated businesses, and operations of every size in between, not to mention many daytime and primetime syndicated talk shows. Through it all, we've carved a reputation for delivering unparalleled service while providing our clients with user-friendly equipment, and we're proud to say we've never failed a single customer.
When renting audience response technology from Padgett Communications, you'll receive:
On-site service and support from a full-time Padgett project manager, who will assist in pre-event planning as well as handle equipment setup
State-of-the-art handheld keypads that offer versatile programmability, and allow your audience members to quickly and easily provide answers to questions
Instant archiving and secure storage of all audience feedback data as well as post-event reports
A detailed, itemized quote outlining all costs for ARS service, and guaranteed no hidden charges
When you want the best audience response technology for rent coupled with unbeatable, personalized service for the duration of your event, turn to the industry leaders at Padgett Communications. Contact us today for more information and to learn how we distinguish ourselves from other audience response rental companies.