What to Look for in Audience Response System Rental Companies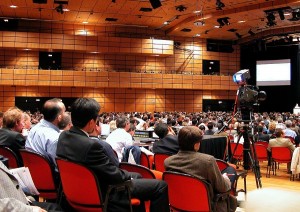 When comparing companies that rent audience response system (ARS) equipment, there are several things you need to consider before ultimately making a decision. There are ARS rental providers that will offer equipment at what you believe to be a low price, but caution should be exhibited – oftentimes you may get what you pay for. At Padgett Communications, we believe an ARS company should be fully invested in an event. That's why we go to great lengths to provide not only reliable equipment, but also exceptional customer support services for the duration of your presentation.
With Padgett Communications serving as your event's ARS provider, you will receive:
User-friendly equipment that is 100 percent reliable and field-tested to ensure it delivers proper functionality
The services of a full-time Padgett project manager, who will work on-site at your event to provide support from beginning to end and has expertise working with the specific ARS equipment that will be utilized
A complimentary, fully itemized quote that will show you in detail the costs associated with every aspect of our ARS service
When renting an audience response system from Padgett Communications, you can trust that we'll deliver on our promises. After all, our track record proves it. Since breaking into the ARS industry in 1995, we have facilitated thousands of events for companies of all sizes, and we've maintained a 100 percent success rate.
Contact Padgett Communications today to learn more about the benefits of choosing us as your audience response system provider and how our full-service approach differs from many other ARS rental companies.