Padgett Communications Offers the Best Audience Response System in the Industry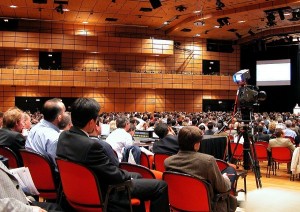 Organizations that demand the best audience response system known to turn to Padgett Communications because both our technology and our service is a cut above the competition. Having served organizations of all sizes since 1995 in industries ranging from Fortune 500 companies to professional associations, we have continually maintained a 100 percent success rate.
One of the ways we differentiate ourselves from other audience response companies is by offering a full-service solution. Rather than sending you a box of equipment and leaving you to figure out the rest for yourself, we provide comprehensive support leading up to and during your event. For example, we'll send a dedicated project manager to wherever your event is being held. This individual will set up your audience response system, install all software, configure your displays, and even familiarize you with our equipment. And, during your event, your project manager will remain onsite to troubleshoot any issues or make on-the-fly changes if you need them.
Additionally, Padgett Communications' technology is among the most advanced and versatile available in the industry. For instance, we offer four distinct keypads, each of which is ideal for a wide range of applications, such as:
Team building exercises
Large group elections
Icebreaker games
Gathering marketing information from an audience
Getting demographic comparisons and immediately displaying them visually
And much more
All of the information you receive from your audience will be immediately archived, securely stored, and made available for your organization to analyze later. If you're interested in learning more about what makes Padgett Communication's the one of the best audience response system providers in the world, contact us today.