Conference Voting Systems Provided by the Industry Leader – Padgett Communications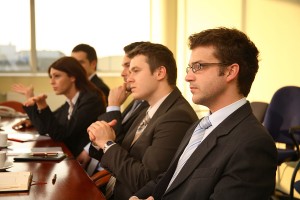 Conference voting systems are an excellent way for organizations of all sizes to handle medium or large-scale elections. Unlike paper ballots, electronic voting is fast and not susceptible to human counting errors. However, it is important to note that not all voting systems are equal in quality. For example, choosing a company that simply provides you with a box of equipment and do-it-yourself instructions may leave you vulnerable to enormous hassles during your election, including software glitches and data loss.
By turning to Padgett Communications for conference voting systems, you can rest assured that your election will go smoothly. We provide our customers with a full-service solution, which includes sending an account manager to your location who will take care of everything from setting up your equipment to guiding you through a rehearsal to making on-the-fly changes during your event. What's more, we offer four different voting keypads, all of which are among the most reliable in the industry and are equipped with our advanced, proprietary software.
Our voting systems are ideal for:
Electing one individual to a single vacant position, such as vice president
Electing multiple individuals to a single position, such as a committee
Adjusting your organizations procedures, bylaws, and policies
Rapidly tallying yes or no votes
And more
After serving countless organization around the globe since 1995, Padgett Communication is proud to maintain a 100 percent success rate. To learn more about our conference voting systems and how they can benefit your organization, contact us today. We will gladly answer all of your questions and provide an itemized quote covering all of our equipment and services.