How ARS From Padgett Communications Enhances A Continuing Education Setting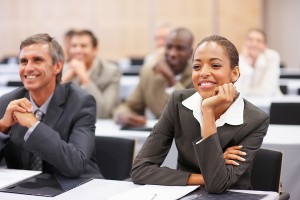 An audience response system (ARS) from Padgett Communications is the ideal tool to facilitate open discussion or illustrate complex concepts in a continuing education setting. Whether it's a large convention or a smaller board-room setting, using hand-held keypads and cutting edge display options from Padgett allows for fast, efficient consensus building and instant archiving of the data gathered during the course of the interactive "conversation" between the presenter and the attendees.
Padgett's proven track record of success – 100 percent satisfaction in more than 10,000 meetings since 1995 – is a product of our rock-solid commitment to world-class customer service. We've worked with companies representing virtually every industry in countries all over the world, and our commitment includes on-site set up and rehearsal conducted by a Padgett employee (never a freelance contractor). Rest assured, a Padgett Communications ARS expert will be right by your side every step of the way for your:
Auditorium presentations
Roundtable discussions
Dialogue sessions
Breakout sessions
Informational seminars
Much More
Call or click today to learn more about how the ARS service provided by Padgett Communications can enhance any continuing education setting.