Accommodating Convention Centers Around the World With Professional ARS Service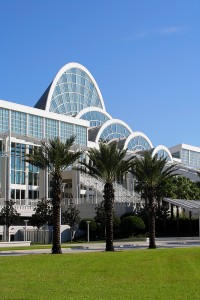 Padgett Communications has brought its unique approach to audience response systems (ARS) to convention centers around the world. The heart of our service is client care, which begins with a comprehensive, completely free quote and doesn't end until the ARS facet of the event has been executed to perfection – which it has, since 1995, at thousands of events across the globe.
In addition to our world-class customer service, Padgett works only with state-of-the-art ARS technology. Our wireless keypads serve as conduits between audience members and presenters, transforming a standard event into a lively, engaging, informative experience.
One of the first things a Padgett project manager will do is help you decide which of our handheld devices is right for your event. The Padgett Ativa is the latest addition to our roster of high-end wireless devices, with a full color LCD touch screen and onscreen QWERTY keypad. Input can be recorded with a finger or a stylus, and offline operation allows for individually paced responses. The Ativa and our other handheld devices – the Padgett Mini, the Padgett Plus, and the Padgett Worldwide – are available for events and meetings of any size. All of the Padgett handheld wireless devices:
Are certified for use at convention centers in the United States, Canada, Europe, and other international locations.
Operate on a robust frequency-hopping spread spectrum (FHSS), eliminating signal interference.
Are assigned individual ID addresses for fast, accurate, secure data compilation.
Are durable and easy to use.
Are customizable with corporate logos.
To learn more about how professional ARS service from Padgett Communications can enhance your next meeting or event, click or call today.