Electronic Polling Equipment and Software for Rent from Padgett Communications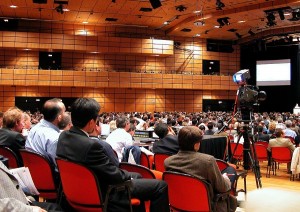 When you need to rent electronic polling devices for an election of any kind, turn to Padgett Communications for a massive selection of state-of-the-art equipment and the kind of customer service that you deserve. We understand how to oversee an election on an intricate level, and we'll be pleased to work with you to help you find a simpler and more reliable method to elect officials within your organization.
The innovative electronic polling systems that we rent are capable of completing all sorts of election-related tasks, including:
Helping you elect a single individual to one position, such as a new president or secretary for your organization
Allowing you to elect multiple individuals to a single position, such as a new board of directors or committee
Proposing changes to, and then voting on those proposed changes to your organization's existing policies, procedures, and bylaws, while being able to propose and record changes to the verbiage on the fly
And much more – if you can think it up, we can find a way for our software and electronic polling equipment to make it happen
For more information on the electronic polling software and systems that we are proud to rent to organizations of all types all over the planet, please contact Padgett Communications today. When you, do, we'll be pleased to tell you more about all that we can provide for you and will even offer an itemized quote for your rental.